In 1898, this building at 351-353 Mankato Avenue was a combination of saloon and grocery store established in 1884 by Teofil Jakub Sikorski (1840-1913), an immigrant from Bytow. Such a combination was common on Winona's East End. Sikorski was elected a Winona alderman three times, and in 1900, he was elected to the Minnesota House of Representatives. In December of 1931 Winona's iconic restaurant, the Hot Fish Shop was established here by Henry Kowalewski, who had formerly been a professional fisherman.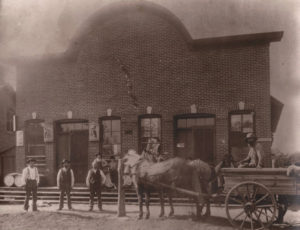 When the time came to build the new Washington-Kosciuszko School in 1934, the Hot Fish Shop was one of a number of buildings condemned to make room. It closed on August 4, 1934 and reopened in its brand new facility on at the intersection of Mankato Avenue and US Highway 61 on December 26th of that year. Despite the Great Depression, the new restaurant soon become one of Winona's favorites, and drew travelers from Highway 61 as well. To publicize it, he gave out free postcards such as the one below.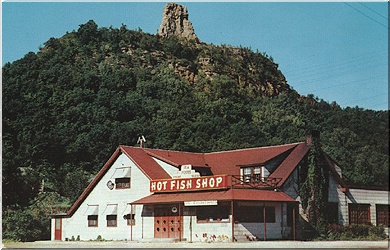 In later years, Henry Kowalewski made frequent trips to Poland to visit relatives in the Brusy region. A 1974 newspaper about a trip his son Lambert Kowalewski made to Poland with his wife Helen talks about their relatives in the Kashubian region of Poland. This was the first modern reference to the Kashubian ancestry of most of Winona's "Poles." Lambert decorated his restaurant with artifacts he brought home, to celebrate Winona's Kashubian Polish heritage. Unfortunately, the Hot Fish Shop closed down in 1999, leaving a void that is still felt by Winona residents today.