My future grandparents, John Charles Bambenek of Winona, MN and Laura Pellowski of Pine Creek, were married at Sacred Heart Church in Pine Creek on November 17, 1914. They first settled in Pine Creek, where their first child, Frances Adeline, was born on October 8, 1915. Below is an invitation to their wedding, scanned from an original which is now in my possession. The Polish text reads
Please honor us with Your Presence
Together with Your Family
At the Wedding Ceremony
of our daughter
LEOCADIA
to
MR. JOHN BAMBENEK
on Tuesday, 17 November 1914 at 9:30 am
at the Church of Jesus' Heart
in Pine Creek, Wis.
You are also cordially invited to the wedding banquet, which will take place at our home immediately after the wedding.
With deep respect,
Jacob and Franciszka Pellowski.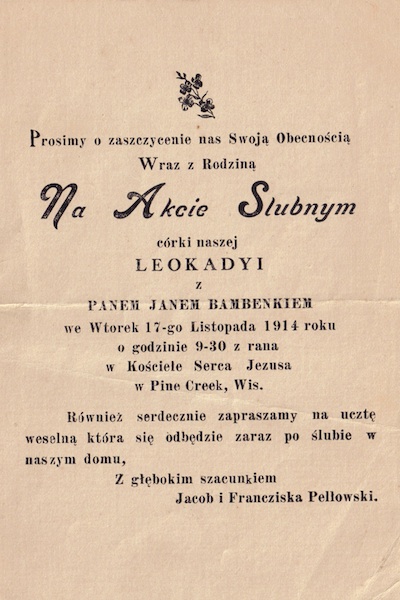 In the 1910s, wedding invitations for young Kashubian couples were still printed in Polish, which strongly implies that Kashubian wedding customs were still being observed, including the traditional three day wedding celebration (still observed by Kashubians today, as I know from experience). John had lived in Winona all his life, but he met Laura on a chance trip to Pine Creek, and visited the Pellowski farm on weekends. The new married couple's choice to settle down in Pine Creek is further evidence that the Kashubian communities of Winona, Minnesota and Pine Creek/Dodge, Wisconsin were in fact one, as they are to this day.